Black Spray Foam


To Fix Your Farm


Established in 2004
As a farmer, how much money are you spending each and every year for energy? Is it $1,000 a year? Perhaps $10,000 a year? Maybe even $100,000 a year? How much are you going to spend in 5 years? How about in 10 years? The costs are staggering to the American farmer and while this was not something that had to be dealt with in the past, in today's economy these energy costs could make the difference between making a profit or seeing a loss each year. If you are looking for a way to make your barn air tight, look for ag-tight black spray foam to give you an increase in energy savings.


Why Does Our Sealant Work? 
Air leaks in buildings causes drafts, and drafts cost you money. The AireBarrier lets you spray a coat of foam insulation over cracks and holes in your building, creating an air barrier, to help keep the temperature of your building from varying so much. The proper use of an air barrier to stop an air leak has proven to significantly reduce heating and cooling costs, improve building durability and create a healthier indoor environment.


Do It Yourself Spray Machine
For over 7 years, Sealant Technologies, Inc. has been working on developing a portable spray foam machine that is easy to operate and affordable to own. We knew this wouldn't be an easy task but we saw the need for a portable spray foam machine that could be simple to use and operate and easy to maintain. We wanted to develop a Spray Foam Hybrid for smaller spray foam projects in the $2,000 - $5,000 price range.


16lb Canister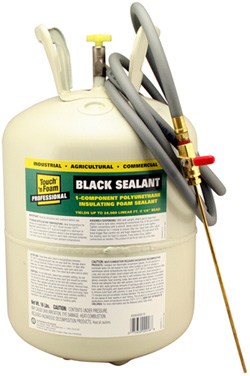 The 16lb Canister is a unique system which we call Black Sealant designed for the industrial, agriculture or commercial industry. Because of it's unique bottom loaded self cleaning metal gun, it gives the applicator full control of the sealant and allows consistent applications of thin beads of black spray foam. It allows almost anyone to do a lot of linear feet quickly and since the sealant itself sets up within 30 minutes, it's possible to work within a tight timeline so that you can get in and out fast. 


This black can foam is UV-resistant and is specially formulated to blend in with landscaping, RV, automotive, HVAC and other applications. No need to paint when used outdoors. Also, the black foam is closed cell minimal expansion so it is very durable and will resist the movement of air and moisture through a crack or joint. The black can form helps to stop the air leakage that is one of the major energy wastes in any building envelope. This air sealant product is easy to use and can be used in almost all building applications