Foam To Fix Your Farm

As a farmer, how much money are you spending each and every year for energy? Is it $1,000 a year? Perhaps $10,000 a year? Maybe even $100,000 a year? How much are you going to spend in 5 years? How about in 10 years? The costs are staggering to the American farmer and while this was not something that had to be dealt with in the past, in today's economy these energy costs could make the difference between making a profit or seeing a loss each year. If you are looking for a way to make your barn air tight, look for ag-tight black spray foam to give you an increase in energy savings.


16lb Canister




( Click Photo For More Info )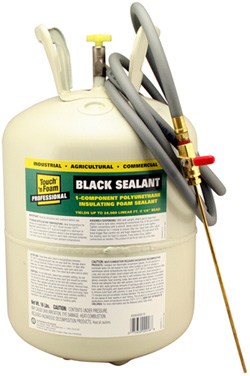 The 16lb Canister is a unique system which we call Black Sealant designed for the industrial, agriculture or commercial industry. Because of it's unique bottom loaded self cleaning metal gun, it gives the applicator full control of the sealant and allows consistent applications of thin beads of black spray foam. It allows almost anyone to do a lot of linear feet quickly and since the sealant itself sets up within 30 minutes, it's possible to work within a tight timeline so that you can get in and out fast.

Click Photo For More Info
The Spray Pods Gun has an adapter that will allow you to spray out of a 10lb or 16lb Canister. This means that all of those larger projects which in the past used a foam kit, can now be applied faster and more affordably using the Spray Pods Gun. The best news is that after your project is over, you can clean the Spray Pods Gun and store it for your next application. 


Click Photos For More Info
While it may seem like a lot of work, energy savings will pay for itself in a very short period of time. For example, a 50' x 500' foot building with a 1/4" crack in it in a three-mile-per-hour breeze with an inside/outside temperature difference of 80 degrees Fahrenheit would take three gallons of propane per hour just to heat the air leakage. It is easy to see that sealing up a small crack or joint in your ag building can add up to huge savings and also provide for an air sealing that can prevent diseases and cross contamination.