Spray Can & Canister
Foam Sealants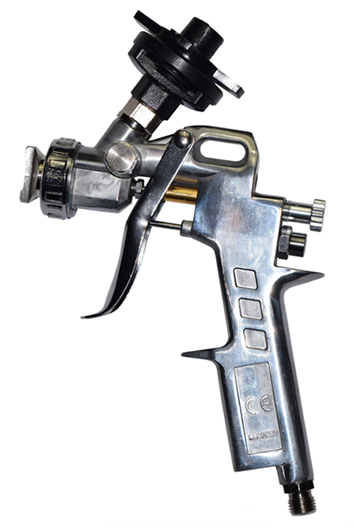 All Metal & Reusable
Only @ $179.00
For more than 40 years, there has not been a way to use one component foam sealant to spray, until now! Introducing the Spray Sealants Gun. This simple solution uses air nucleation to create spray sealants which will save you time and money on every project. It's compact, easy to operate and because foam sealants have tremendous adhesion, there are very few surfaces that it will not stick to. Also, because you are spraying a one component foam sealant, each application is affordable. The Spray Sealants Gun is truly a handy addition for your energy efficiency toolbox. Check out all of our foam sealant kits as one of them is right for your next project.  
The Three-In-One Gun
The patent pending Spray Sealants Gun Adapter is specifically designed to accommodate the Spray Sealants Gun so that when it fits onto the basket, it will not leak. This adapter gives the operator the flexibility to spray or to use a manual gun to apply a bead application, all out of a 10lb or 16lb canister. Also, because the adapter was designed for simplicity, it is easy to use and will fit onto the basket of any manual foam sealant gun in the market.


16lb Canisters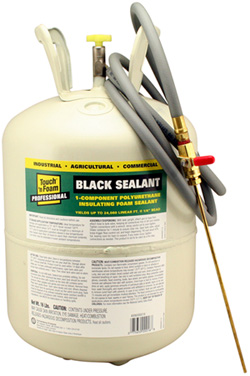 The 16lb Canister is a unique system which we call Black Sealant designed for the industrial, agriculture or commercial industry. Because of it's unique bottom loaded self cleaning metal gun, it gives the applicator full control of the sealant and allows consistent applications of a spray application. It allows almost anyone to do a lot of linear feet or square foot coverage quickly and since the sealant itself sets up within 30 minutes, it's possible to work within a tight timeline so that you can get in and out fast.

Insulating foam sealants are a type of spray polyurethane foam (one component foam) that has insulating, air sealing, and adhesive properties. Insulating foam sealants are available at home improvement stores and come in small cans (typically 12-24 oz.) or canisters ( 10lb-16lb). These products are intended for application for air sealing or as an adhesive. Their small volume, ease of use, and portability make them well-suited for smaller projects tackled by the Do-It-Yourselfer. They are typically dispensed using a straw or small dispensing gun. These "canned" foam products have specific safety information on the label that should be carefully followed.

Black Can Foam
For air sealing joints, seams or cracks, a one-component foam or canister sealant has been successfully used for 40 years. While bead application has been effective solution, many projects also need some form of spray to actually get the job done completely. Bead applications must often be re-sealed over time and do not penetrate all of the deep surface cracks gaps and crevices, or microscopic areas that are difficult to see or reach. Spray sealant applications expand sealing cracks and crevices deeply and thoroughly when applied correctly.  This means that spray applications are more effective, and projects are not likely to require any repeat application