Click Here To View Ag-Tite Canister Sealant Operation
For years, the farmer has had to work with canister containers which were designed for other industries. The truth be told, none of them work. Many of the products are built out of open cell foam and are white in color. All of them have delivery systems that will clog up and are not reuseable for other projects so the entire system has to be thrown out, wasting a lot of foam and time. More importantly, the open cell foams will not hold up over time because they absorb moisture.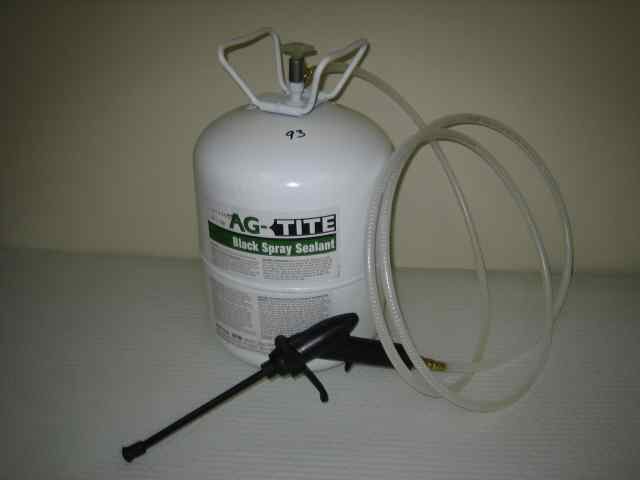 The AG-Tite 16lb canister with a bottomloaded, self cleaning metal gun is built for the farmer. The gun is unique because it will not clog up. As long as the farmer turns the valve on the canister off after a project is completed then the gun will be ready for the next job. The bottomloaded features allow for the farmer to reach those hard to access areas of the house and because of its metal construction it will not break no matter what the application.
The Ag-Tite 16lb canister contains the same closed cell technology that the farmer has come to rely upon with our products. This black sealant will stop air and moisture from coming into your building and because it is minimal expansion, it will only fill the cracks or joints with precision. The black color allows the product to hold up even in direct sunlight so you can use it almost anywhere.
Ag-tite Canister Sealant Instructional Video
This photo shows the three components which come with the Ag-Tite 16lb Canister. The 16lb canister itself allows the farmer to put out about 10,000 linear feet of Ag-Tite sealant at a 1/4″ bead. More than enough for a large poultry or hog farm. The hose is 10′ in length so this allows the farmer to get into hard to reach areas. The gun is an all metal and is self cleaner which is completely unique to the agricultural industry. Because the nozzle is metal, it will not wear down when scrapped against concrete so it will last for the length of the canister life.